Continuous Carbonization Furnace
Continuous carbonization furnace is a kind of efficient rotary carbonization furnace used to produce charcoal product. Biomass materials like wood shaving, peanut shell, rice husk, nut shell, palm shell, wood log and coal will be dry distilled and carbonized under oxygen-free atmosphere.

Application:Used to carbonize wood, fruit shell, fruit kernel, and coal materials.
Good Compatibility and Wide Application

Taeda new carbonization furnace can be used to carbonize various biomass materials like wood log, fruit kernel, powder, particle and biomass crumbles. It holds wide application range and good adaptability.

No-smoke Carbonization Process

Taeda adopt new innovative structure and emission is up to standard. Flue gas can be fully used and there is no smoke produced. Combustible gas can be recycled, which reduces production cost.

Continuous Running and Large Scale Production

Continuous carbonization furnace overcomes disadvantages of traditional batch carbonization furnace. It can be used for continuous and efficient production after after years' innovation. Developed based on rotary carbonization furnace, Taeda new carbonization furnace has been upgraded and can be used for large-scale production work.

Superior Texture Guarantees Service Life

Taeda carbonization furnace adopt SS310 furnace body and combustion unit adopts high frequency welding. Heating shell is lined with heat-resistant refractory fiber with longer service. Less quick wear parts provides better user experience.

Low Energy Consumption and Gree Production Process

Taeda continuous carbonization furnace realizes carbon/gas/oil cogeneration aim and solves disadvantages of traditional furnace like high energy consumption, severe pollution and low efficiency. By-product produced by carbonization process like tar and wood vinegar can be recycled.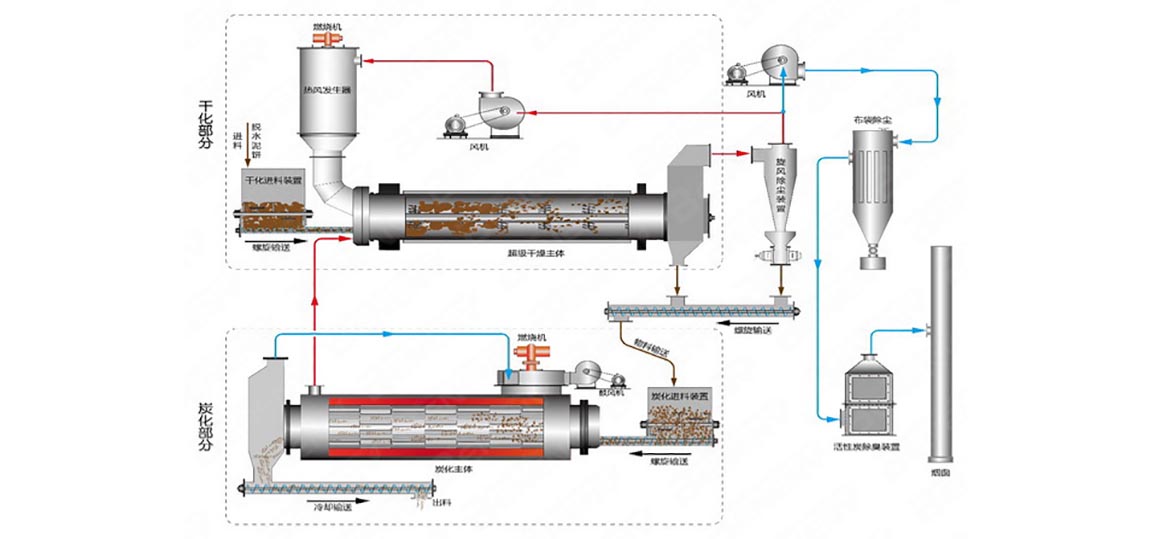 Continuous carbonization consists of feeder, carbonization furnace, flue gas purification unit and cooler.
During working process, raw materials will be sent to carbonization furnace through feeder. Becuase it is a confined space inside furnace, which fullfill lack-oxygen demand. Materials will be dry distilled and carbonized in 600℃ or higher environment. During carbonization process, there will be flue gas produced. Flue gas will return back to carbonization furnace for combustion after fitering tar. In this way, heat energy needed by furnace can circulate continuously, which helps system reach a smokeless, environmental and constant process. Carbonized products will pass by cooler for reducing temperature. Output temperature of charcoal is only 50 to 80℃. We can also add mist spraying equipment for secondarily cooling carbonized charcoal and reach complete flame preventing aim.