Save Running Cost
New lime rotary kiln adopts new combustion technology which can fully makes use of fuel and improve combustion efficiency. It can help enterprises save energy consumption and running cost.

Low Material Cost
Based on preheater, whole system uses cooler to products from cooler 80℃ plus ambient temperature, Which provides convenience for conveying and storing. Secondary air in kiln can be preheated to over than 700℃, which reduce moving parts and special material.

Final Lime Holds Good Quality
Lime product from Taeda new lime kiln holds good quality, high chemical reaction ability, small density and large specific surface area. It is major auxiliary material for steel making, coking and calcium carbide industries.

Environmental Friendly and Energy Saving
New technology greatly improves fuel utilization rate and pollution problem is effectively solved, which makes Taeda rotary a kind of up to standard production. Besides environmental protection, it also conform to national emission requirements.

High Decomposition Rate
Advanced structure and low pressure loss vertical preheater can effectively improve preheating effect. Decomposition rate of lime in kiln can reach 20% to 25%. Taeda lime rotary kiln can directy make use of 10-15mm limestone.

Low Energy Consumption
Reliable fish fin seal device at kiln end makes air leakage factor lower than 10%. Taeda choose compound refractory materila so that to reduce heat radiation loss. Taeda lime kiln is featured in simple maintenance and low energy consumption.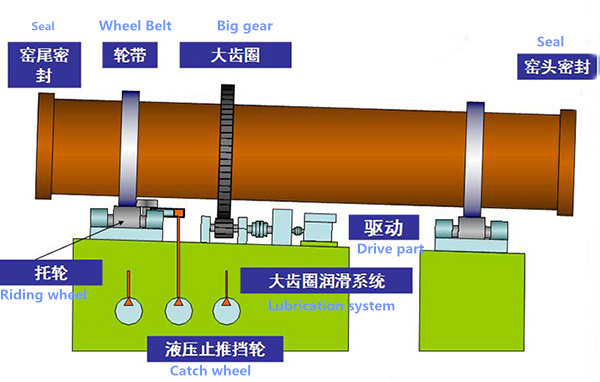 Raw material used for producing lime material is a kind of natural calcium carbonate. Lime rotary kiln is a kind of continuous equipment which calcine limestone under high temperature and produce quick lime (Cao). Lime rotary kiln is composed of rotary kiln body, supporting device, supporting device with catch wheel, transmission device, movable kiln head, kiln tail seal device, and burner.
Lime rotary kiln drum is rolled by steel plate and with refractory lining. There is a certain inclination between rotary kiln and horizontal level. Kiln body is supported by three or more tyre belt on each supporting device. A large ring gear is fixed with a tangential spring plate on the inner cylinder body near feeding end belt, and a small gear meshes with it. During normal operation, the main drive motor transmits power to the open gear device through the main reducer to drive the rotary kiln, and the material enters the kiln from the kiln tail (high end of the cylinder) for calcination. Due to the inclination and slow rotation of the cylinder, the material rolls in the circumferential direction and moves in the axial direction (from the high end to the low end), and continues to complete the process. Finally, the raw clinker enters the cooler through the kiln head cover for cooling. The flame generated by fuel combustion is injected into the kiln from the kiln head, and the waste gas produced by the combustion is exchanged with the material and then exported from the kiln tail.