Environmental Friendly and High Automation Level
Taeda active lime rotary kiln is featured in less pollution, low energy consumption, high mechanical level and high automation level(PLC/DCS bus control).
Advanced Technology and Low Energy Consumption
Taeda active lime rotary kiln constantly upgrades its combustion system. Besides common coal firing, it can also use coal gas, natural gas and other clean fuel. By adopting modern new burner, it can fully make use of energy and reduce pollution caused to environment.
Great Adaptablity and God Product Quality
Cao content of finished product is higher than 92% and activeness is higher than 320ml. Because of simple maintenance and low energy consumption, Taeda active lime rotary kiln is priority among customers' options.
Stable Running Performance and High Capacity
Taeda active lime rotary kiln adopts new seal technology and device, which makes sure stably running and high production capacity.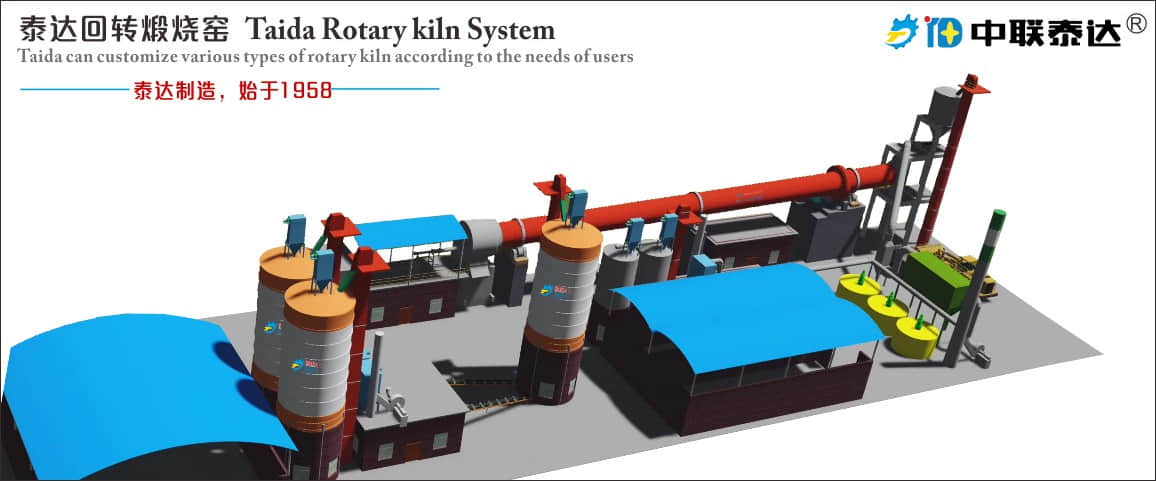 1. Calcining theory summary: According to chemical and physical reaction inside kiln, calcining process of active lime is divided into three stages which are preheating zone, calcining zone and cooling zone respectively.
2. Preheating zone: Preheating zone is above kiln body. In this area, materials will exchange heat with hot airflow from calcining zone. Correspondingly, moisture in lime will evaporate. Initial uneven heating of lime produces cracks, volume expansion and a decrease in ultimate compressive strength. Fuel is gradually heated to about 900°C and enters the calcination zone.
3. Calcining zone: Calcining zone is in middle of active lime rotary kiln. In this area, blower will send proper amount of air for helping combustion. Large amount of heat will be released while fuel is burning. Temperature will gradually increase to 1100℃ to 1200℃. Released air will enter preheating zone for preheating. Decomposing speed of active lime is relevant to speed at which gas produced by temperature of calcining zone is carried away. Meanwhile, fuel ratio and air sent in will also affect decomposing speed. Product of decomposition reaction rate and the time passing through the firing zone is equal to particle size of material. Active lime is cooked and burned through. If it is smaller than material particle size, less burning will occur. If it is larger than material particle size, overburning will occur.
4. Cooling zone: Cooling zone is at lower part active carbon rotary kiln and extends to ash outlet. Remaining calcium carbonate will not decompose anymore in this area. In this area, heat of lime will be made use of to preheat air (400-500℃)and calcined lime will be cooled. Relative position of each zone is basically fixed, but cannot be totally separated. These zones will change along with kkraw material and fuel condition. During operation, calcining zone must be at middle of kiln body.