Reliable Technology and Good Incineration Method
Temperature in sludge rotary kiln is controlled from 700℃ to 800℃. Hazardous wastes will be pyrolyzed and gasified. Combustiable gas will be burnt in secondary combustion room, which greatly reduce oil consumption. It is a kind of reliable sludge incineration technology.
Low Running Cost and Less Thermal Loss
Sludge rotary kiln runs in a low temperature and thermal loss is less. Flue gas is the lowest and installed power is reduced. Correspondingly, running cost is greatly saved, which is beneficial for waste water treatment plants to invest.
Good Adaptability and Simple Operation
Sludge rotary incineration kiln can well adapt to sludge amount and sludge feature. Working temperature can be easily controlled. Incineration process can be done in a smooth process. Sludge and gas will move in opposite direction. Thus, combustion waste gas can be fully used and disposal efficiency is improved a lot.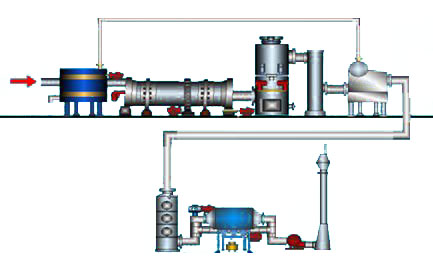 Before sending sludge into rotary kiln, preheat the furnace with oil gas or fuel oil. Then, input dehydrated sludge cakes. Sludge will enter the rotary kiln from the high end and will be discharged from the lower end. Fuel oil will be injected through lower part. Therefore, the lower part holds the highest temperature and the higher end holds lower temperature. With the rotation of rotary kiln body, sludge will flow to lower part from higher end gradually. In the drying zone, sludge will be preheated first. After the moisture content of sludge reaching to 10% to 30%, the temperature of sludge and wet bulb of hot air will be about 160 degree centigrade. With constant speed of evaporation, the proper ignition point will be reached. In the combustion zone, distilled sludge will be fired. When the size of sludge particles is about 3 to 10 mm, combustion process is controlled by internal divergence. Therefore, the higher the relative speed of gas and particles is, the thinner the dust layer is and the faster the combustion speed is. The temperature in combustion zone can reach to 700 to 900 degree centigrade.