Titanium Dioxide Rotary Kiln
Taeda titanium dioxide rotary kiln is used for calcining titanium dioxide. It is a new generation of improved titanium dioxide calcining equipment. Compared with traditional equipment, its working performance is stable and calcining precision is very high, which reduces user's operation difficulty to a certain extent. Taeda titanium doxide rotary kiln provides guarantee in terms of stability and reliability. It is a device that contemporary users are quite satisfied with.

Application:Widely applied in coatings, plastics, inks, paper, rubber, chemical fiber, electronics, ceramics, enamel, welding rods, alloys, glass and other fields.
Reasonable Structure
Titaninum doxide rotary kiln consists of kiln drum, support device, seal device and heat source.
Reliable Auxliary Component
Besides major transmission part, Taeda Titanium doxide rotary kiln is also set with auxiliary transmission device which can make kiln rotate slowly and prevent kiln deformation in case of power shut off. It adopts shell cover seal form for kiln head and contact seal device for kiln tail, which makes sure reliable seal performance.
Stable Function
Titanium rotary kiln holds heat exchange function and there is even temperature zone inside kiln. Heat exchanging requirement of different procedures for processed materials can be guaranteed.
Good Seal Performance
Titanium doxide rotary kiln holds reliable compound fish scale seal at two ends, which guarantees air leak coefficient smaller than 10%. Compound refractory materials are used to reduce thermal loss.
Scientific Installation Method
Taeda Titanium rotary kiln holds certain slope with horizontal level. Whole kiln body is supported by support roller and there is catch wheel device equipped to control kiln body move up and down.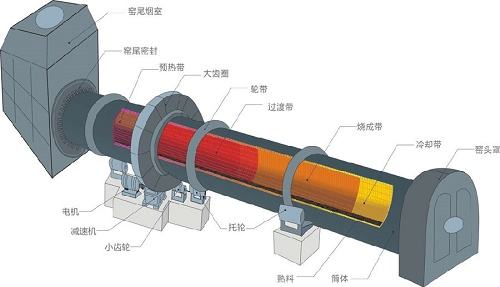 Filtered titanium dioxide hydrolyzate filter cake is fed into the tail end of the titanium dioxide rotary kiln with a certain slope and slowly rotating. The combustion mixing chamber in the direction of the kiln head blows clean flame and hot air into the kiln to dehydrate and calcine the filter cake. The hydrolyzed titanium dioxide filter cake after dehydration and calcination at high temperature above 1000°C rolls in the circumferential direction and moves in the axial direction (from high end to low end) with the help of the inclined titanium dioxide rotary kiln body, and continuously completes the process of dehydration and calcination. Finally, it enters the cooler through the double hydraulic flap discharge valve at the lower part of the kiln head cover. Material after cooling and screening is the finished titanium dioxide powder product.