After the foundation of our country, our government paid much attention to the development of industry based on the sacrifice of environment. With the development of the industrialization, citizens and government attach more and more importance to environment protection. Various industries start to innovate a series of efficient and environmental-friendly garbage disposal equipment. Zhengzhou Taida, as one of the longest
rotary kiln
manufacturer in central plains, holds professional R&D center.
In the process of industrialization and urbanization, material consumption increases sharply. Meanwhile, a great amount of wastes is produced. In recent days, smog weather become a hot topic which bothers national people. Therefore, in recent years, many cities put environmental governance at first place. No matter to adopt greening measures or other relevant methods, the aim is to make our living environment a better place.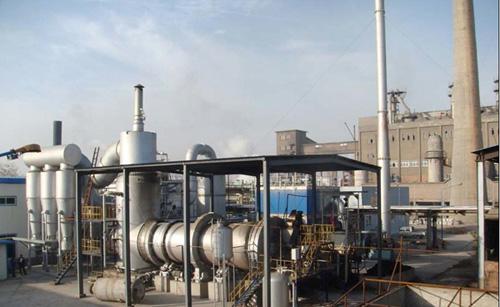 When it comes to pollution, people always talk about pollution brought about by combustion and sewage disposal. As a whole, majority of pollution are is caused by incineration, such as garbage incineration. In the incineration process, much harmful gas will be produced, which will lead to atmosphere contamination.

Contemporarily, with the updating of technology, new type and environmental friendly equipment. Through a series of test and analysis, garbage rotary kiln has been widely applied to incineration of municipal wastes. This equipment cannot only burn and dispose wastes fully, but also can effectively utilize produced waste gas, which can avoid atmosphere pollution. In the operation process, the most outstanding advantage of applying rotary kiln to treat municipal garbage is less cost, good economic profit. The discharge garbage after disposal can meet national standard easily. In addition, rotary kiln equipment can also be applied to soil purifying and sludge disposal. Sludge contains much elements, besides NPO nutrient elements, but also contains heavy metal, organic pollutants and causative agent. Through calcining and disposal of rotary kiln, we can solidify and collect heavy metal. After collecting and neutralization of harmful gas, there will be less harm to environment.

The disposal challenge existing in waste disposal process: in foreign countries, before disposing by rotary kiln, dangerous wastes will be pretreated first. Compared with foreign technology, our disposal skill lags behind. We have no professional waste disposal plant. Dangerous waste collected from relevant institutions will enter cement plants directly. It is a major problem to transport safely and classified storage. The ingredients of solid waste is very complex. The colorific value varies much. In continuous disposal process, the temperature in the rotary kiln is not very stable, which will lead to conflict between garbage disposal and production situation.
Zhengzhou Taida, as a professional garbage incineration rotary kiln manufacturer in China, can develop out efficient and cheap
industrial kiln furnace
. Meanwhile, Zhengzhou Taida garbage rotary kiln can greatly reduce environmental pollution. If you have large amount of garbage at hand and you are worried about how to deal with it, you can refer to Zhengzhou Taida for help. Our professional and experienced engineers can provide you custom-made design according to specific characteristics of your garbage. You can call us at 0086-18539990967 or send email to
vip@tdaxy.com
.